How to Utilize Online Reviews in Your Online Store
Online reviews are a valuable tool for businesses when it comes to optimizing the customer experience. Online reviews provide customers with honest assessments of the product or service, which helps customers make informed decisions about their purchases. This article will discuss ways to utilize online reviews in your online store.
Πίνακας Περιεχομένων: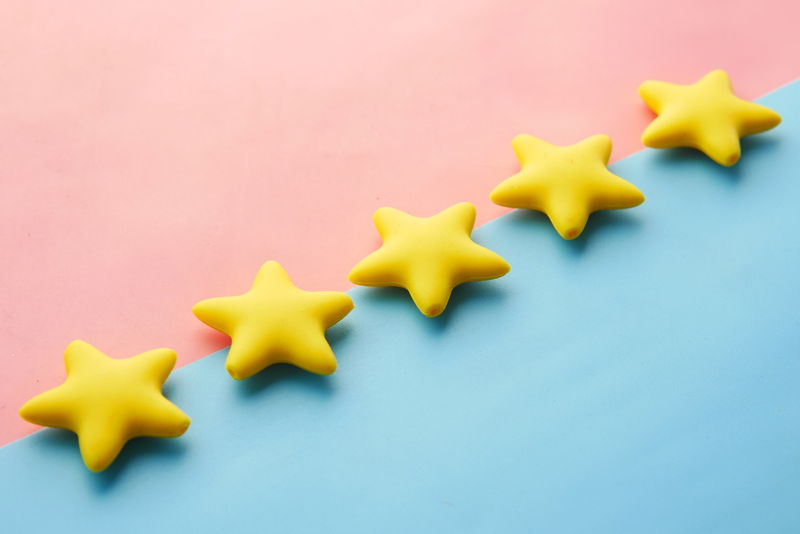 Create a Positive Reputation
Creating a positive reputation is essential to any online store. With online reviews, you can better understand how your customers perceive your products and services. Therefore, it is important to actively seek out these reviews and respond to them promptly.

Encouraging customers to leave positive reviews is a great way to build your brand's credibility. Respond to feedback in a professional and polite manner. Acknowledge customers' feedback and take the time to thank them for their reviews. Doing so can help create a positive and trusting relationship with your customers. Ask customers to share their positive experiences with others, or share the reviews on your social media profiles. This will give potential customers reliability and trust in doing business with you.

Online reviews can be a great asset for your online store. By utilizing these reviews, you can create a positive reputation and build customer loyalty.
Χρειάζεστε μία ιστοσελίδα;
Θέλετε να δημιουργήσετε μια ιστοσελίδα αλλά δεν ξέρετε από πού να ξεκινήσετε; Το πρόγραμμα δημιουργίας ιστοσελίδων μας είναι η τέλεια λύση. Εύκολο στη χρήση και με τη δυνατότητα προσαρμογής στις ανάγκες της επιχείρησής σας, μπορείτε να αποκτήσετε έναν επαγγελματικό ιστότοπο σε χρόνο μηδέν.
Track Your Reputation with Online Analytics
One of the most important elements of online reviews is being able to track your reputation with online analytics. Knowing how people feel about your store, its products, and its services will give you a good idea of what customers think of your store and how to improve it. Analytics can be used to review customer feedback and flag any errors you may have missed. This can lead to better customer service and improved
customer experience
. Having an analytics platform will also help you identify trends in online conversation.
By responding to these trends, you can proactively provide customers with the best experience possible. Lastly, having an analytics program in place can provide valuable insights into the overall sentiment of customers toward your store. Utilizing this data will help you make informed decisions about how to process feedback and follow up with customers. By understanding customer sentiment and responding in a timely manner, you can ensure that your customers are satisfied and that your reputation remains positive.
Encourage Positive Reviews
Encouraging positive reviews of your online store is key in utilizing online reviews. Reviews are a crucial part of increasing the visibility of your store, as shoppers typically look at reviews before making a purchase.

Ask your customers directly for review the products they've purchased. You can do this by following up on an order with a quick survey making sure customers are satisfied and if so, requesting a product review and responding to all feedback in a timely manner. Doing so will show you put customers' opinions first and can it also prevent any negative reviews from being posted.

Furthermore, you can utilize incentives to try and increase the number of positive reviews you receive. You could offer an exclusive discount code or a free product the customer can redeem after leaving a positive review in exchange.

Last but not least, remember to remain transparent and honest. This will ensure any reviews are genuine which will add value to your store in the eyes of potential customers.
Respond to Negative Reviews
When building relationships with customers, responding to negative reviews is an important step. Showing customers that you are listening, and willing to resolve problems, can build trust and create positive experiences and long-term loyalty.

It's also important to remember that even negative reviews can be an opportunity to learn and grow. Take a moment to truly assess the comments and use this feedback to improve. Show your customers that you are responsive and willing to fix any issues.

On top of responding to customers, be sure to flag any comments that contain personal information, offensive language, or anything else inappropriate. This will ensure your online reviews remain an efficient and safe avenue for customers to share their experiences and have a meaningful dialogue with your store.
Update Your Inventory Regularly
It's important to keep your inventory up-to-date. Knowing when your products are running low or are out of stock will prevent customers from seeing reviews for items they can't purchase. Regularly updating your inventory will ensure that customers are seeing accurate reviews. Plus, customers will appreciate being notified if an item they're looking for is out of stock.

Another benefit of keeping your inventory up-to-date is that it gives customers an accurate idea of what is available in your store. This can help you track the success of your products, allowing you to make informed decisions about which items you should be stocking. Customers are more likely to make a purchase if the information about the product is accurate and up-to-date.

Taking the time to update your inventory regularly can also benefit you in the long term. It can help you identify which items are more popular and which are outdated, allowing you to make strategic and informed decisions about which items to stock in the future.
Engage with Customers
Engage with customers by responding to the comments left in online reviews. Customers appreciate it when businesses respond to the feedback they provide. Not only does this show that businesses pay attention to their customers, but it also gives customers a chance to share their thoughts and feelings directly with the company. Furthermore, when companies take initiative to engage with customers, customers are more likely to leave more positive and helpful reviews. This can be a powerful tool to boost sales and increase customer loyalty.
Encourage Social Sharing
One of the best ways to utilize online reviews in your online store is to encourage social sharing. This is a great way to demonstrate the popularity of your products and generate more reviews. Ask customers to share their review on social media, such as Twitter and Instagram, and provide incentives, such as store credit or discounts. Additionally, you can add social sharing buttons to your website, so customers can easily share their review with their friends and family. This will drive more traffic to your online store, and increase the number of reviews posted.
Monitor Competitors
It is important to keep an eye on your competitors and what they are doing. This is especially true when it comes to online reviews. Monitor your competition and take note of how they respond to customer reviews. This can help you determine how you should handle customer reviews on your own store. Additionally, keep track of their ratings and read customer reviews to see how their products/services are received. This information can provide valuable insight that can help you make changes in your own store and improve customer satisfaction.
Περίληψη
Utilizing online reviews in your online store can help you better engage with customers, create a positive reputation, track your reputation with online analytics, and encourage positive reviews. By responding to negative reviews in a timely manner and tracking your competitors, you will be able to optimize your online store and provide a better customer experience.