10 Improvements You Can Make to Increase Website Traffic
Increasing website visitors is essential for any website owner. By making some simple, yet effective changes to your website, you can boost traffic, improve page views, and increase user engagement. These 10 easy improvements can help get your traffic flowing in no time.
Πίνακας Περιεχομένων: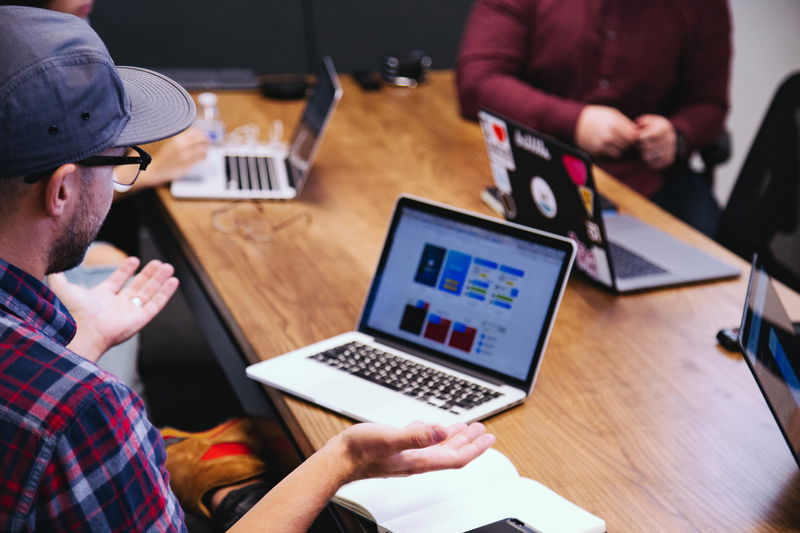 Simplify Your Navigation
Navigation is one of the first and most important things that a user experiences when visiting a website. To create a successful website, make sure your navigation is simple and straightforward. You can do this by cutting redundant pages, reducing the number of buttons, and writing clear labels. Make sure that none of the links take users to 404 pages and that users can easily access the homepage from any page. This will result in a much smoother user experience and less confusion, making it more likely that a user visits more pages of your website.
Χρειάζεστε μία ιστοσελίδα;
Θέλετε να δημιουργήσετε μια ιστοσελίδα αλλά δεν ξέρετε από πού να ξεκινήσετε; Το πρόγραμμα δημιουργίας ιστοσελίδων μας είναι η τέλεια λύση. Εύκολο στη χρήση και με τη δυνατότητα προσαρμογής στις ανάγκες της επιχείρησής σας, μπορείτε να αποκτήσετε έναν επαγγελματικό ιστότοπο σε χρόνο μηδέν.
Check and Improve Your Site's Speed
Making sure your website runs as quickly as possible can be a huge factor in increasing website traffic. There are several things you can do to check and improve your site's speed. First, use a web tool such as Google's PageSpeed Insights to identify what might be slowing your website down. This tool can help you identify areas where your website can be optimized, such as optimizing images, minifying code, and leveraging browser caching.
Second, consider using a content delivery network (CDN). A CDN will serve content to visitors from servers close to them, dramatically reducing page loading times. Finally, consider using an acceleration service such as Cloudflare, which uses a variety of optimization techniques to make your website run faster.
Optimize Your Content for SEO
Optimize your content for SEO. SEO, or Search Engine Optimization, is an important factor in driving relevant web traffic to your site. Make sure to include relevant, keyword-rich content with your webpages. Optimizing your keywords can help you move up in rankings and gain visibility within search engines. Also, make sure to have readable, quality content that engages website visitors. With the proper SEO approach, you're sure to see an increase in website traffic.
Implement Responsive Design
Responsive design ensures that websites can adapt to different screen sizes, such as desktop, laptop, tablet, and smartphone. This allows users to access the site with ease regardless of their device, leading to a better user experience.
Creating a website optimized for mobile devices is even more important since they are now used to access the internet more than desktops. Optimizing a website for mobile devices requires utilizing the best practices in responsive design, ensuring devices of any type can seamlessly access a website without compromising its usability.
On top of increasing website traffic, implementing responsive design also increases user engagement for longer sessions, which in turn boosts your SEO ranking. Additionally, it improves the overall brand perception since your website looks professional and is able to load up quickly.
Make Your Site Easy to Read
Making your website easy to read is an essential step to improving website traffic. People are more likely to return to a website if they find the content clear and organized. Use simple language, make sure your font isn't too small, and use standard font sizes that people are used to seeing on the web.
Additionally, ensure the contrast between the text and background color is of sufficient contrast so people are not struggling to read it. Breaking content up into smaller chunks makes it much easier for people to digest. Also, make sure your line length is appropriate as this also helps overall readability.
By carefully considering readability when designing your website, people will be much more likely to stay on your website and return in the future.
Leverage Social Media
Using social media is a powerful tool to increase website traffic. Leveraging social media to build and engage with an audience will help drive traffic to your website. Share content on social media that links to your website, engage with users in the comments and even connect with influencers who can help spread the word. Applying a content marketing strategy can help create brand awareness, increase visibility, create trust among users and showcase your expertise. Paid ads on social media can also be used to help reach new potential customers. Lastly, leveraging social media can be an effective way to capture leads who may become customers.
Create Quality Design
Creating quality visuals is one of the critical strategies to increase website traffic. Strong visuals can reflect the quality of the content, increase engagement, and ultimately, attract more visitors. Quality visuals can include photos, infographics, diagrams, charts, and videos. These visuals should be closely aligned with the content of your website and should be appropriately sized and optimized for mobile. Additionally, high-quality visuals can help engage social media users, which can help to drive additional website traffic.
Include Calls-to-Action
An essential technique to keep in mind when trying to increase website traffic is the use of calls-to-action. Calls-to-action are great ways to encourage your users to take an action that you want them to take. This could be from asking them to sign up for a newsletter, download an ebook or visit a new page, whichever best fits your goals. It is important to include this, as without it your website visitors may not be aware of the resources or options available to them. It is also important to set up your calls-to-action in a strategical way so that they are easily noticeable and not too intrusive.
Make Sure Your Site Is Secure
Your website visitors should feel safe when they visit your site. Make sure your site is secure by using HTTPS and an SSL certificate. This will ensure that any communications your visitors have with your site are protected from malicious actors, and will create a trusted atmosphere for your visitors. It will also give your website a boost in rankings in search engine results, which will in turn help to increase your website traffic.
Encourage User Engagement
Encourage user engagement to increase website traffic. User engagement is a great way to increase website traffic and keep visitors coming back to your website. Make sure to include a comment section at the end of each article or post on your website, so that visitors can interact with one another and share their opinions. Additionally, provide interactive content such as games, surveys, and quizzes that users can participate in to stay engaged on the website.

Provide share buttons on your website, so that visitors can easily share content with friends and on social media. Finally, use videos, images, and audio content to create a more stimulating website experience. This will give visitors the incentive to explore the website and will help to increase user engagement and website traffic.
Περίληψη
By following these 10 easy tips, website owners and developers can boost their website's traffic and viewership, as well as create a user experience that keeps people coming back. Implementing simple changes may take a little time and effort and will be worth it in the long run.